The story behind secretswingerlust.com
Why secretswingerlust.com?
In 2019 we went on a short getaway. We had decided to try a swinger club abroad and had spent a lot of time finding a suitable club at Google in advance, trying to figure out how to sign up for attending the club.
When we finally figured out how to sign up, we then had trouble figuring out what to wear. What was the dress code of the club?
We rushed off to find a naughty outfit in town as we hadn't planned our trip at home. After shopping in all the naughty stores we could find, we felt ready for a wild evening.
In the evening, Miss secretswingerlust began to get ready. We went for a luxuriously naughty look as the website of the swinger club gave the impression that it was a very exclusive club with really nice-looking and naughty couples. There was no doubt this would be an epic night, we thought. 
We arrived at the club just over midnight and were a bit disappointed. The outside of the club looked anything but luxurious and exclusive, however, we thought it might be that the club tried to be discreet in the street, so it did not wake any major suspicion.
When we entered the lobby we were met by a well-dressed man who asked for 100 EURO for entrance to the club – which we gladly paid with the belief that we would now have a exclusive club experience. Unfortunately, it was far from what we got.
We entered a completely worn-out club with a couple of elderly, worn-out gentlemen scattered around the club, who were obviously very interested in the young Miss from Secretswingerlust.com, and who – without mannerly and polite behavior –  started getting too close to her. 
We left the club very quickly with a sad and unpleasant experience – as well as a fear of trying out a new club abroad in the future. On the other hand, we also felt that someone should create a platform that quality checked swinger clubs on an international scale for other like-minded couples like ourselves who want to travel for new naughty experiences. 
So, we decided to start Secretswingerlust.com on our way home from our trip. We want to prevent others from having bad experiences and at the same time highlight the great swinger clubs that are a must-visit. 
Secret Swingerlust loves
How do we select the clubs we visit?
It is very difficult to find the really good swinger clubs on the Internet, as the good clubs take their discretion very seriously. Most travelers choose the first club that appear in Google search – which is not always a good idea.
We get a lot of tips at info@secretswingerlust.com from swingers who have had an amazing experience in a club or resort. Based on these brilliant tips, we go and investigate each club systematically. 
We always select several clubs in one area when we travel, as we have found that there are a lot of swinger clubs that do not meet our standards.
How do we travel around?
We really wanted to visit the world in a year, but since we are a young couple who both have full-time jobs, we will have to plan each journey. 
First we agree on which area to visit based on the tips we received on our mail.
Next, we pack the car (if it is in Europe) and our very patient german shepherd, who has been around all over Europe. Then follows 20-40 hours in the car with loud music and a high mood.
When traveling around we always stay in various hotels. On our website, we only recommend the best hotels we have visited, as not all hotels keep what they promise on the Internet.
When we have arrived in the area, we first spend a lot of time browsing the area, so that we in our subsequent review can give you hints about what experiences to expect and whether it is a holiday destination worth traveling to or if it is just a place to visit for a club night.
In the evening, we visit the club completely anonymously, and we party and play like a normal swinger couple. Once the club closes and we are about to leave, we hand over a white or black card that tells the club if they are on our list or not.
What it takes for a club to get on the list

?

As a starting point, we as a couple need to have an urge to go back and visit the club – and we have pretty high standards.

We must also want to use the club's facilities, which must be hygienic and appealing.

It does matter what kind of people the club attracts, but in terms of age our website does not focus on a specific age group, instead we embrace all swingers, regardless of age.

It's the basics and enough for the swinger club to get a bronze star.

If the swinger club lives up to the basics, and can surprise us with something we didn't expect, or is otherwise unique, we give the club a silver or gold star.

If you visit a gold club you can expect something very special.

However, we tried to arrive at an absolutely amazing swinger club with facilities that certainly lived up to the standards of Secretswingerlust.com, but there were only 8 people attending the club on a Saturday. That's why we "unfortunately" had to give a white card to the club, indicating that we will visit it again if we come back to the area. 

The same goes for another swinger club, where we had to leave the queue at the entrance after four hours. We cannot recommend a swinger club where you cannot enter it, as it in no way inspires a cheeky evening.

The clubs on our website must meet all of our standards and must be very service-minded to be included.
Why don't we tell about the clubs we visit but don't get on the list?
We get a lot of inquiries about if we have visited a specific club, which is not included on our list. 
We always choose to answer "unfortunately, we cannot answer" as our policy is: "if we have nothing nice to say, then we say nothing"
Our job is not to judge clubs that do not live up to the standards of secretswingerlust.com, as there may be many swingers who find it to be a good enough experience.
We judge a club from an anonymous visit. We arrive at the club unannounced to get the right picture of the club, but we can, of course, be really unlucky and attend the club an evening where the picture is worse than usual. 
That is why we have chosen not to mention the clubs we can't recommend from our anonymous visits, as it wouldn't seem fair to the clubs. We only focus on emphasising the clubs that gave us a true "wow-experience". 
If you think Secretswingerlust.com is a great idea!
We are a perfectly normal young couple who have the mission that no swinger should experience a bad night at a swinger club.
It is an expensive hobby to travel around and visit clubs around the world, and if you want to support us there is three ways:
– If you know a fantastic club you think we should visit, please write us: info@secretswingerlust.com
– If you would like to support our website, you can click on our style tables. Every time you make a purchase, you support us.
– When you are traveling, you can click on our hotel proposal and book through Booking.com and, thereby, support us.
We do not take money from the clubs on our list, as we do not want clubs to be able to pay to get on our site. We want to maintain credibility and honesty with our readers.
SEX TOYS BEYOND YOUR WILDEST EXPECTATIONS
Price range: 145 US dollarsWe tested the Le Wand Petite, motivated by its recognition as a winner of the Women's Health and FEMTECH Awards. It's stirred up quite a buzz in the industry and among consumers, and with all the talk and hype surrounding it,...
read more
Price range: 640 to 768 US dollarsIf you're having trouble accessing the website, try turning off your Wi-Fi on your phone and using mobile data instead. There's nothing unsafe about the website; this step is simply to help troubleshoot the...
read more
This blog is written based on our experience in the European countries, as we have no experience with private swinger parties in the rest of the world, there may be cultural differences, we can not account for. We have been swingers for the last 8 years and have been...
read more
Listen to more podcasts on www.swingeruniversity.comEvery swing goes up and down, this one is no different This episode discusses some of the benefits and downsides of the swinging lifestyle to help you figure out your reasons for joining in the fun. SHOW NOTES:...
read more
Listen to more podcasts on www.swingeruniversity.comSwingers love to dress up and dress sexy! We discuss the why swingers love it, where to get it, and how to get comfortable wearing nothing but tape or paint! SHOW NOTES:1. Sexy Outfits Are Necessary2. Comfort Level3....
read more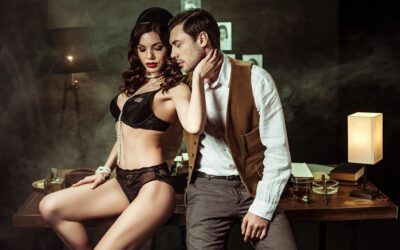 Listen to more podcasts on www.swingeruniversity.comHow to keep the secret you are a swinger from your co-workers, friends and family? Lying is impossible to maintain, you're bound to trip up, and there's a better way. We help you come up with an alibi and share our 5...
read more