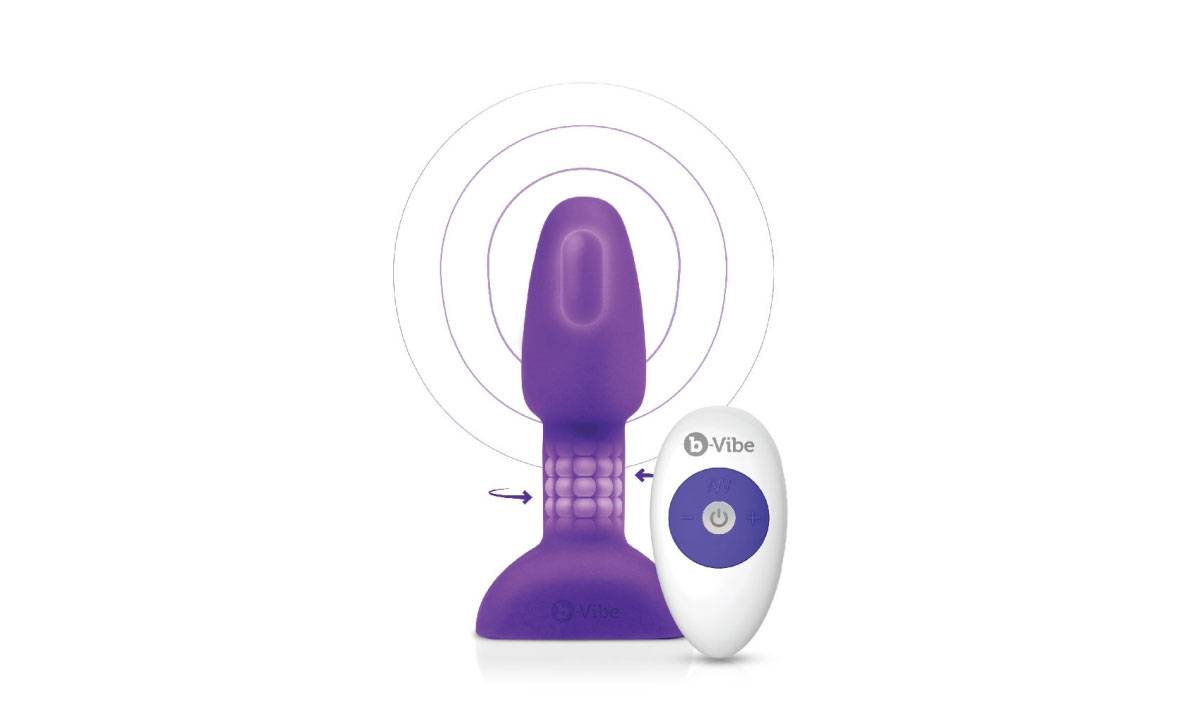 Rimming Petite from b-Vibe
Price range: 160 US dollars
Have you considered diving into the world of anal toys but have been scared off by the thought? Or

perhaps you're

already an experienced user looking for your next "wow" moment. Either way, buckle up, because b-Vibe Rimming Petite is here to take you on a journey of sexual discovery and pleasure.
Rimming Petite:

A New Sensational Experience for Anal Lovers

and beginners 
The Rimming series comes in three different sizes. We tested the small version, so if you're completely new to anal play, we recommend this product. 
The b-Vibe Rimming Petite is truly a sexual enjoyment. This "little monster" of a toy is designed with a luxurious, silicone-coated surface that feels soft against the skin, and avoids the cold, intimidating sensation that some metal or glass products can give. The silicone's natural resistance also requires a decent amount of water-based lubricant, especially since you won't want to use silicone-based products with it. 
What makes this toy unique are its advanced features. Metal beads are strategically located in the shaft of the toy, offering 7 different rotation patterns that gently massage the sphincter. This adds an extra dimension of stimulation, distinctly setting it apart from other products on the market. Additionally, the toy features a surprisingly powerful vibrator in its tip, with adjustable levels of intensity. Let's just say it's a surefire way to climax. 
The product also includes a travel and storage case, complete with a travel lock feature to prevent accidental activation while it's packed in a bag. This avoids any potentially awkward situations, something we've experienced before. 
For those new to the world of anal toys, b-Vibe Rimming Petite comes with an informative guide. This guide provides useful hygiene tips and advice for first-time users to maximize both safety and pleasure.  
As for power, the toy comes with a USB charger and has a runtime of up to an hour. While that's sufficient for most sessions, it's always a good idea to ensure it's fully charged before use. The battery-operated remote control makes it easy to switch between different rotation and vibration patterns. If the remote should get lost or run out of battery, the toy can also be manually activated through a button at the bottom. 
One thing to consider: if you plan to use this toy during intercourse with a partner, be aware that it can be challenging to keep the toy in place. 
In terms of versatility, b-Vibe Rimming Petite is a strong choice for individuals of all genders. 
If you're seeking a versatile, effective, and reliable way to explore anal stimulation, you've found a great companion in b-Vibe Rimming Petite. With its focus on user enjoyment, complex yet user-friendly features, and robust power solution, this toy is an excellent choice for both beginners and experienced users.
We are satisfied with the b-Vibe Rimming Petite, which has provided us with many enjoyable experiences and orgasms. However, it is also a very expensive piece of toy. 
Other products from b-Vibe